Save up to 30% off Hot Tubs!
Unbeatable January Sale now on! Book a visit to our showroom or download your voucher here to save up to 30%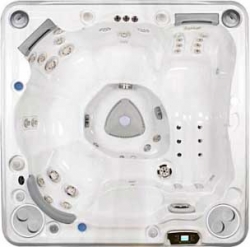 Product Features
Seats:
Up to 5 Adults
Dimensions (inches):
80 x 80 x 37
Dimensions (cm):
203.2 x 203.2 x 94
Weight (Full):
3821lbs / 1733kgs
Weight (Empty):
735 lbs / 333kgs
Jets (Gold Series):
30
Jets (Platinum Series):
40
Brand:
Hydropool
How Much Water?:
370 US Gallons /1400 litres
Buy Now Pay in A Year with 0% APR available *subject to Ts&Cs

The Hydropool Self Cleaning 570 accommodates 5 people. It is composed of 4 body moulded bucket seats and one never float lounger. This model is one of the best-selling tubs across North America and Canada, and has only recently been made available to the rest of Europe. This popularity stems from the fact that 95% of people buying a hot tub for two people seek the opportunity to fit four. The spacious interior and number of seats allows you to sit back and relax after a long day, or have friends and family join you in this wonderful tub in complete comfort.
Further to its spacious design, the 570 also features Hydropool's unique Self Cleaning system. The Self Cleaning system allows you to enjoy the benefits of a hot tub. Filtering 100% of the water in a staggering 15 minutes, the pressurised skimmer clears debris from the surface of the water whilst the patented floor vacuum sucks up anything on the base such as grit and sand. Just sit back, relax and enjoy this superb Hydropool 570 Hot tub in true style.
0% APR available. Buy now with as little as £500 deposit. No interest, no fees, no charges. Subject to status and acceptance.