We will not be beaten on price!
Book a visit to our new showroom and we'll have a glass of bubbly waiting! We'll even arrange for your car to be cleaned.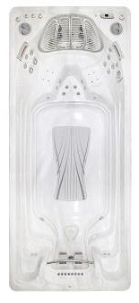 Product Features
Shell Dimensions:
236 cm x 473 cm / 93" x 186"
Usable Swim Area Dimensions:
248 cm / 98"
Height
134 cm / 53"
Volume of Hot Tub:
7638 L
Weight (Full):
8,800 Kg
Weight (Empty):
1,162 Kg
Hydrotherapy Seating:
2 people
Cover Sections:
5
Buy Now Pay in A Year with 0% APR available
*subject to Ts&Cs
New in the Hydropool line up is the 16 Executive which carries the same technology for the smoothest controllable swim current available on the market. It is not just a swim spa but an Aquatic Gym!
Find out why Hydropool is the leading brand for swim spas with their unique Self Cleaning systems. Contact us now to book a wet test 0208 300 4003

The AquaSport 19ft Executive Swim spa is the ultimate home aquatic and fitness centre. This unique swim spa is guaranteed to provide endless hours of fun and exercise. Use it to surf the waves on a body board, swim against the current, entertain the family or to simply do water aerobics, your options are endless. Incomparably less expensive to run compared to a traditional pool, both your budget and your family will be thrilled with your purchase.
With an advanced filtration system, the Self Cleaning swim spa can impressively filter 100% of the water in just 45 minutes, making it the most energy efficient filtration system in the world. What's more, the dual core filter, high pressure skimmer and built in floor vacuum means that you can spend less time and money on cleaning and maintenance, and more time enjoying!
0% APR available. Buy now with as little as £1500 deposit. No interest, no fees, no charges. Subject to status and acceptance.