Save up to 25% off Swim Spas!
Unbeatable January Sale now on! Book a visit to our showroom or download your voucher here to save up to 30%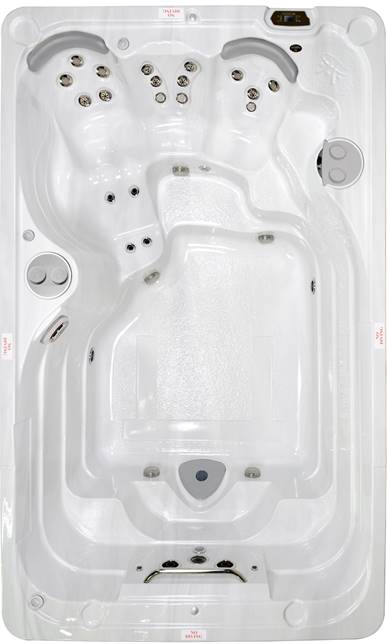 Product Features
Shell Dimensions:
381 cm x 236 cm / 150" x 93"
Height
124.5 cm / 49"
Volume of Hot Tub:
5635 L / 1489 US gal
Weight (Full):
6535 Kg / 14403 lbs
Weight (Empty):
900 Kg / 1984 lbs
Size Category:
12ft
Hydrotherapy Seating:
30
Buy Now Pay in A Year with 0% APR available
*subject to Ts&Cs

This is the newest exciting addition to our Swim Spa family. This great swim spa measures only 150" x 93" (381cm x 236.2cm) so fits into the smallest of gardens or courtyards. This Special Edition pool is packed with features and is perfect for lots of family fun and exercise.
It is manufactured in beautiful Silver Marble with an Espresso Everlast (maintenance free dark brown) Cabinet. It also has 8 LED backlit "Bellagio" cascading waterfall jets! The soothing sounds will add a new dimension to your family BBQ or pool party with the lights adding extra style.
As this is a Special Edition we are unable to add any extra options to this superb swim spa. However, if this is the perfect size for you and your family but you would like even more why not consider our Hydropool Self Cleaning 12fx AquaSport?
This superb model competes in price with the inferior quality swim spas on the market, which are noisy and also have high running costs. Hydropool guarantees the best quality swim spas, which are built to last. They are extremely energy efficient, ensuring low running costs and the product is fully guaranteed for your complete peace of mind!
0% APR available. Buy now with as little as £1500 deposit. No interest, no fees, no charges. Subject to status and acceptance.